A butterfly valve is an open and closed valve with a valve disc located in the middle of the valve.
The collapsible device is located outside the valve body and is connected by a locating bar to the valve disc.
The butterfly valve has been in use since the 18th century, today it is widely used for its compact and cheap advantages, especially in the oil and gas industry, it is used to replace ball valves. But it also has the disadvantage of not suffering from high temperatures and reducing the flow of the flow. In addition, the valve disc is susceptible to failure when opened at an angle of 15-75 degrees due to pressure from a large liquid in the pipe.
Structure of butterfly valve includes: Valve body, valve disc, seat, handle open and close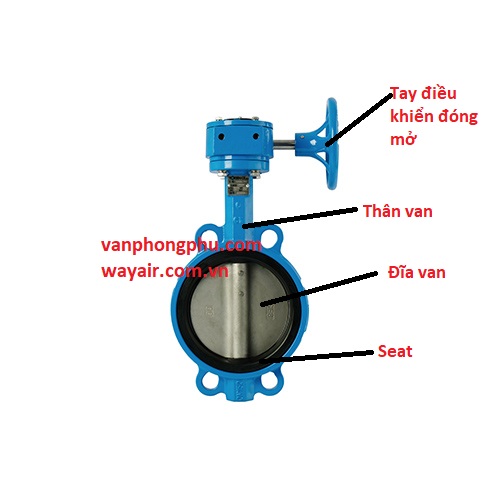 Principle of operation of the butterfly valve:
The butterfly valve operates with a simple opening and closing principle thanks to the rotation of the valve disc. The butterfly valve opens and closes by controlling the outside of the valve body by rotating the disc angle.
Butterfly valve: Butterfly valve is divided into 2 main types
1- Safety type butterfly valve: One type is used as check valve to prevent backflow of media
2- Lug type butterfly valve: This type uses many threaded holes (similar to 3-piece ball valves) that can be removed without affecting the other side. This is done by adding multiple threaded holes and two separate sets of screws on both sides of the flange.